Save time and costs and lower risk in Tertiary Workforce Compliance Management
Free up time by digitising and automating workforce compliance management.
Smarter workforce risk solutions
Focus on your students and teachers, not administration
Decreasing time taken to receive and process compliance and credentialing information from teachers means they start work quicker. OnePassport easily handles the regulation complexities and differences between education providers, states and territories.
With workforce shortages and a competitive labour market, it is paramount that tertiary providers can attract and retain the best talent available. Due to the structure of workforce, including casual academics, and the common siloed structure of faculties, the workforce presents one of the biggest risks to a tertiary institution.
OnePassport's dedicated Tertiary Education Award Compliance system removes the guesswork in employment banding
Centralised workforce compliance management
All workforce types – employees, agency, contractors, students & volunteers all in one system
Automatic alerts for both the organisation and the workers
Workforce compliance renewals is never missed because of automatic alerts and notifications
Connect with existing people management systems for seamless workflows and processes
Onboarding a person, a team or the entire organisation has never been faster
Set workflows that collect all necessary workforce compliance information from new recruits before they can go on the roster. Save time and costs by having the recruit upload the data into their OnePassport app and digitally share it with your organisation.
Remove confusion and support ideal candidates who may lack some computer skills by asking for all CVs to be in the OnePassport CV Builder format. It is free to individuals and all they need to do is paint by numbers fill in the information. Saves you time as CVs in the same format are much easier to read quickly.
By allowing a system for sharing of verified information, you lower duplication. Both time and costs. OnePassport facilitates the secure and (Privacy Act) breach-free method of sharing information including police checks, vaccinations, qualifications and visa information.
Tertiary Education Award Compliance
The wide variety of factors that impact pay rates for workers makes the whole process highly complex. Leaving you exposed to the risk of incorrect payments to your workforce.
OnePassport simplifies this process by digitally collecting all of the information that decides their level and allocating them to their correct payment band. Each individual worker must confirm their band before their status is shared with the Payroll team.
Workforce compliance is all about access to real-time data
At a glance compliance dashboards and metrics to always know where your compliance risks lies
OnePassport | Comply is powered by dashboards, with multiple metrics to show the big picture and reports to deep dive into all areas. Let alone alerts for any information with an expiry date so that neither the worker nor their manager misses anything.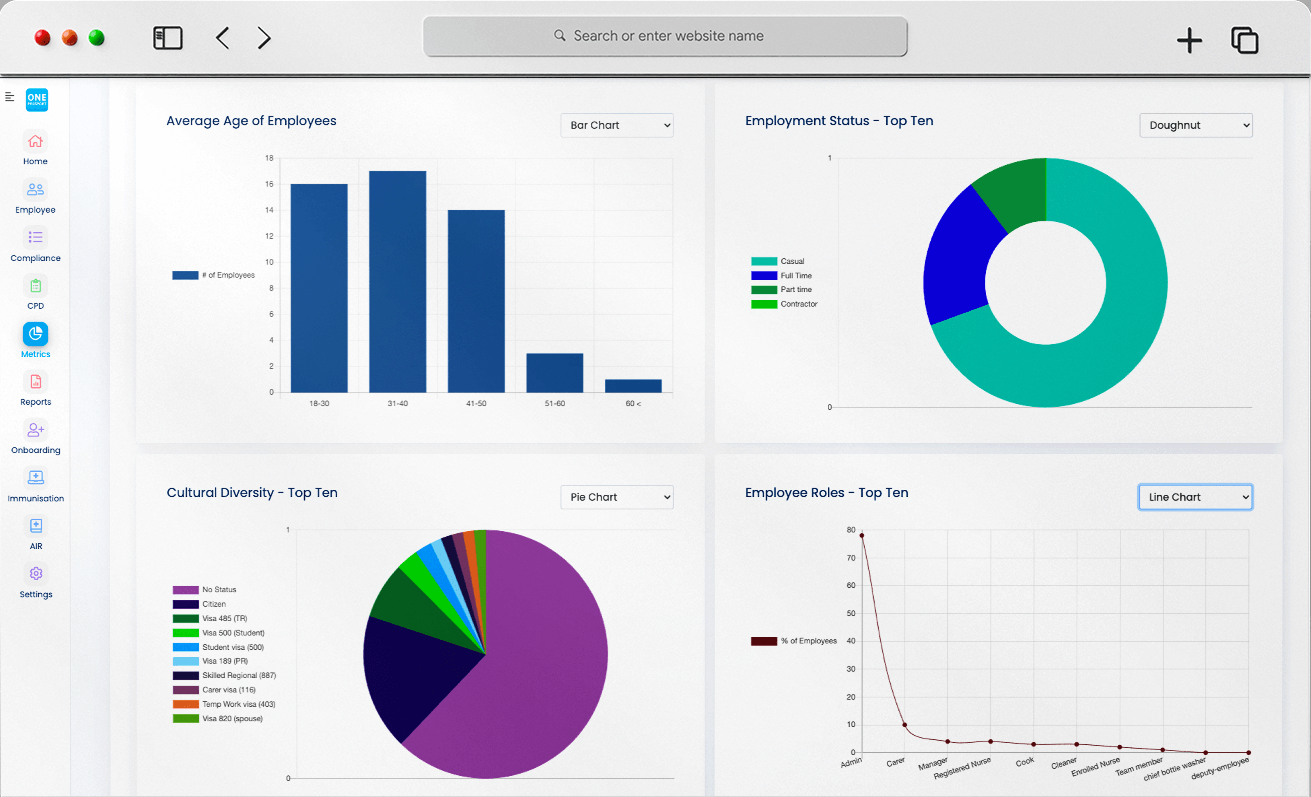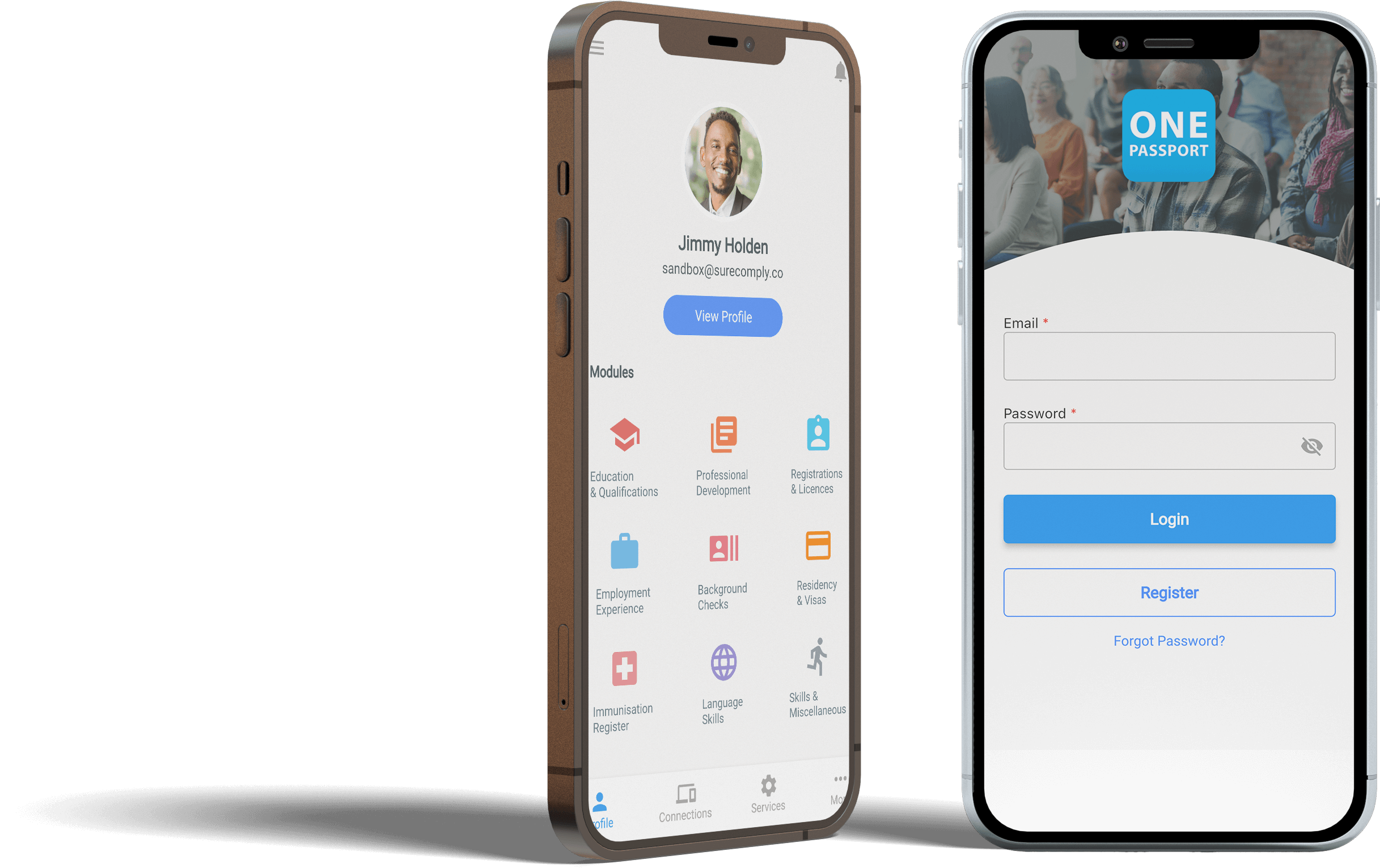 Empower your workers to store, verify and share their important information
The OnePassport | Profile app is an encrypted, state of the art solution designed for individuals who frequently need to store and manage their work-related information; have the ability to independently verify items as needed; and be able to share that "one passport" with their employers, industry bodies and regulatory bodies.
The OnePassport Profile app is a free download from both iOS and Android app stores.
The many benefits of digitising and automating workforce compliance management
Having OnePassport manage your workforce compliance lowers your risk. Immediately.
The system strengthens governance around compliance items. Helps you to avoid breaches – such as the Privacy Act. It provides you a level of visibility both internally and externally to your workers that you have never had before. And all in real time. No delays by a new item being stuck in someone
OnePassport provides a LOT of data – a 50% reduction in workforce compliance administration. Not only in day to day management but also recruitment. The time to effectiveness of new hires is reduced dramatically. The reporting function is not only fast – one click reporting – but all managers can run a report on their people. No more waiting for the HR Dept to tell you whose police checks are about to expire.
OnePassport reduces duplication which saves costs for both the provider and the workers in areas such as background checks. Because workers are sharing data from the OnePassport app directly to their employers, rather than handing in paper or sending emails, it shifts the data entry cost. Providing genuine FTE savings as well.