Background
Silver Chain Group (SCG) is a well respected organisation providing specialised home care services to help people stay at home.
SCG have been delivering care across Australia for over 125 years and have over 10,000 workers.
The Problem
When the COVID 19 pandemic hit,  the requirement to track staff immunisation and PCR testing became critical to business continuity.
Like most organisations, SCG did not have systems in place able to easily capture, store, track and report on this information. They utilised an army of people to manually capture the data and tried to cobble together a solution that would meet the immediate need.
SCG quickly realised this was unsustainable and put the organization at significant risk of failure to capture and report information correctly which potentially impacted clients, their good reputation and business continuity.
The Solution
SCG went through a comprehensive process to understand their current workflows and situation and identify a solution to automate and digitise as many of these processes as possible.
They were seeking a system which:
Provided one source of truth for all immunisation compliance items for all worker types, not just employees

All information stored in one secure place 

Record and manage consent to access an employee's immunisation record from the Australian Immunisation Register

Obtained the current immunisation status of an employee from the Australian Immunisation Register

Managed the lifecycle of immunisation for an employee to ensure that all employees are continually vaccinated in line with the requirements of their position

Enabled them to understand the overall vaccination status of the SCG workforce and manage employee compliance with vaccination policy
Additionally the system needed to work with existing and future Human Capital Management systems to streamline onboarding and rostering processes.
Technology
OnePassport became the software company of choice. OnePassport is a flexible workforce risk management system managing all aspects of staff compliance and credentialing including all required staff immunisations and tests.
Consultancy
OnePassport's health and technology consultants worked closely with SCG to understand their requirements by identifying gaps in their current processes against both the health legislative requirements and exisitng technology structure. This pinpointed the conditions and elements needing to be included in the final solution to achieve the outcomes SCG desired.
The Outcome
In their current state, SCG was using multiple software systems (6) to capture, monitor, track and report. There were multiple 'people' touch points handling or manipulating the information to make it usable. At each of these touch points the risk of error was present and happened regularly. They identified 23 issues with their current state that posed significant risk for the organisation.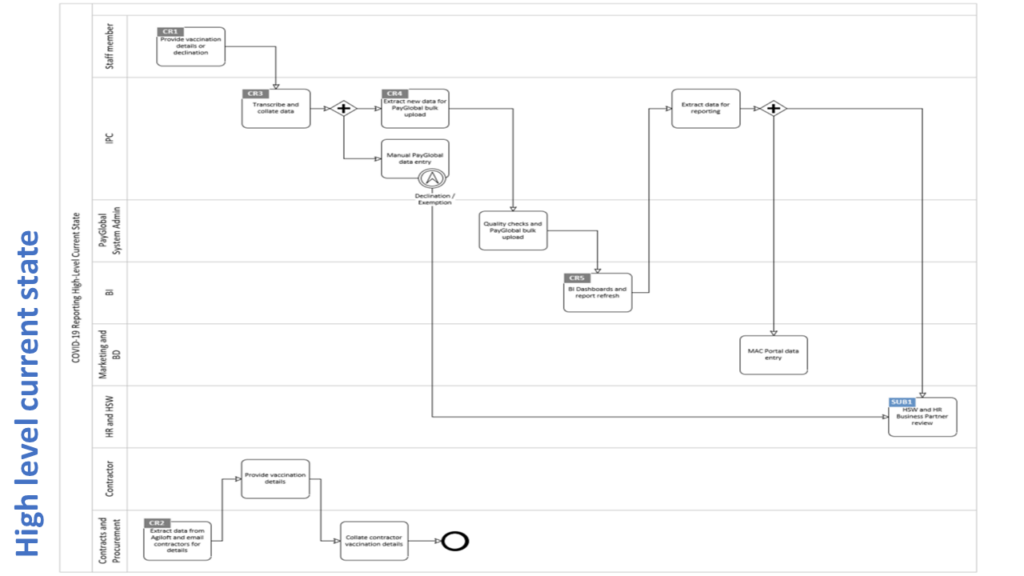 OnePassport removed 23 risks and connected to their HCM reducing 6 systems to 2 and creating a single source of truth.

The work of 5 people was reduced to 1.
Additional benefits included the OnePassport mobile App enabling staff to share information directly with SCG reducing privacy breach risk and saving significant time and money.
The Future
SCG is now looking to expand their use of OnePassport to incorporate the full range of workforce compliance management. This includes further savings and risk management by using the background checking systems within OnePassport to provide verified data directly to the worker's record.
The collaboration has proved fruitful and effective in reducing significant risk and increasing productivity for SCG.