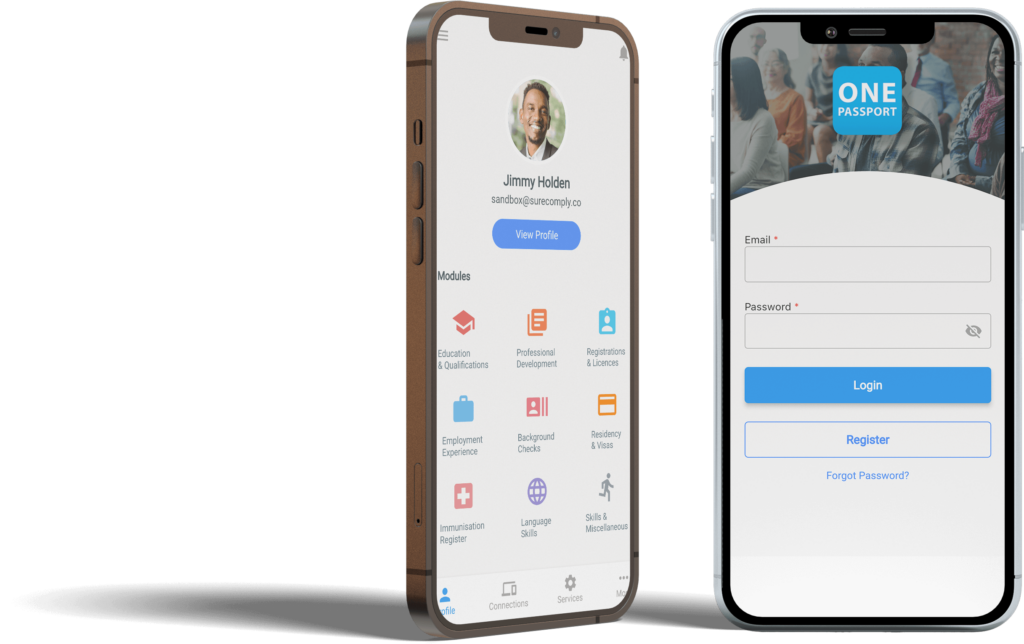 Empower your workers to store, verify and share their important information
The OnePassport | Profile app is an encrypted, state of the art solution designed for individuals who frequently need to store and manage their work-related information; have the ability to independently verify items as needed; and be able to share that "one passport" with their employers, industry bodies and regulatory bodies.
The OnePassport Profile app is a free download from both iOS and Android app stores.
Grow your team with the Professional Development, Performance Management and WH&S Incident Management modules
OnePassport | Profile provides a single place for your workers to store and manage all of their information. This simple step empowers each individual to manage their own workforce compliance information. (This step also means that the cost of data entry of this information is shifted from the employer to the worker).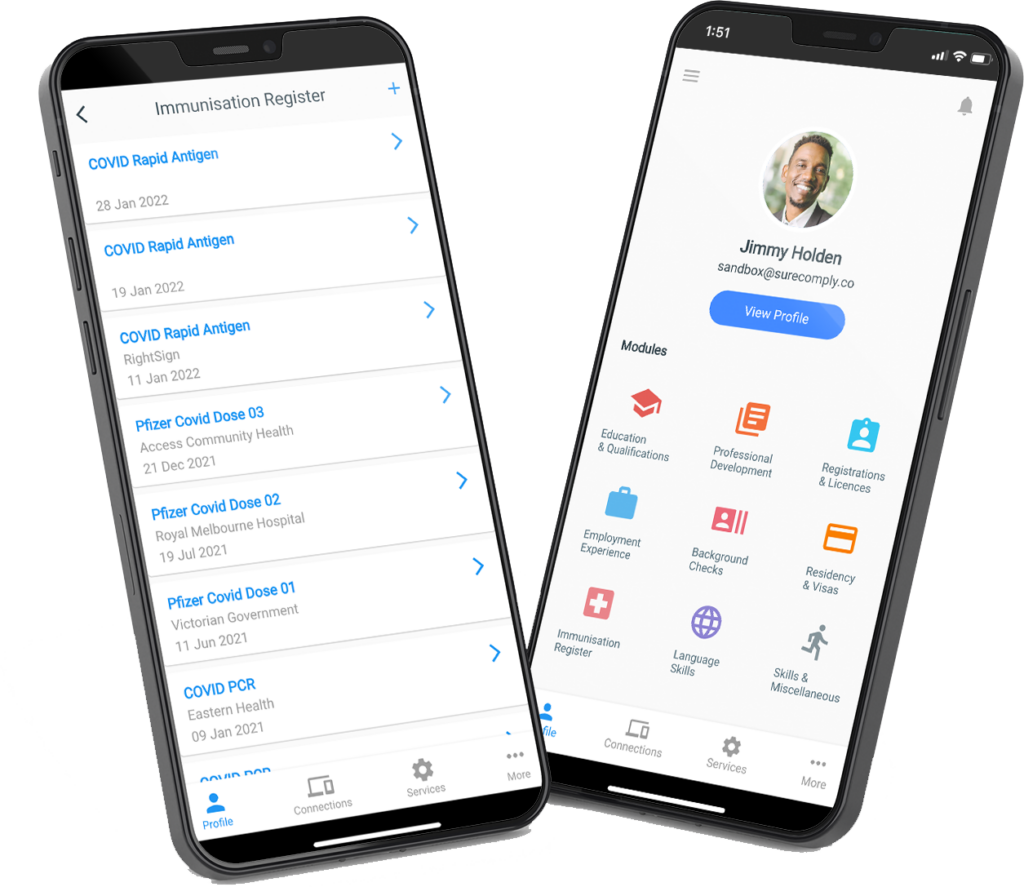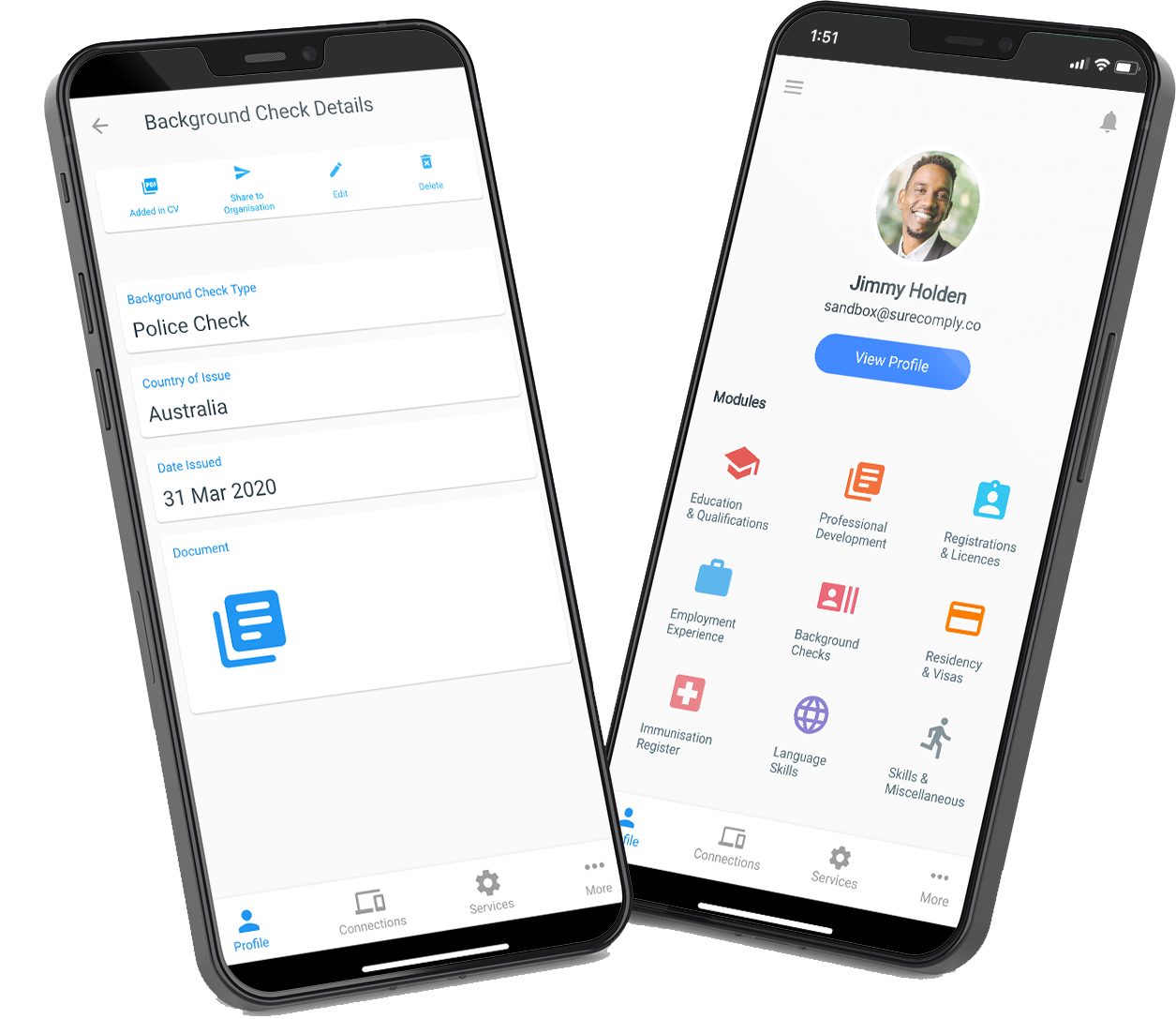 Access third-party verification systems
Especially since Covid, the focus has shifted to both the verification of information and the right of the individual, rather than merely organisations, to access verification systems. OnePassport | Profile has direct connections to multiple third-party verification systems so that workers can have something verified once, such as a qualification, and then be able to hold that information – including the proof of the item being verified by an independent third party.
This includes qualifications, police checks, vaccinations, test results (serology), industry registrations and other types of information.
Tools to empower your workers
OnePassport Profile includes a paint by numbers CV Builder. Workers simply complete their profile and click a button and the OnePassport provides them with a professionally formatted CV for any occasion. Similarly, the OnePassport system provides them an Immunisation Register that can be printed on a single A4 page – ready to be carried in a paper format for times when they cannot access their smartphone. A requirement in the new reality.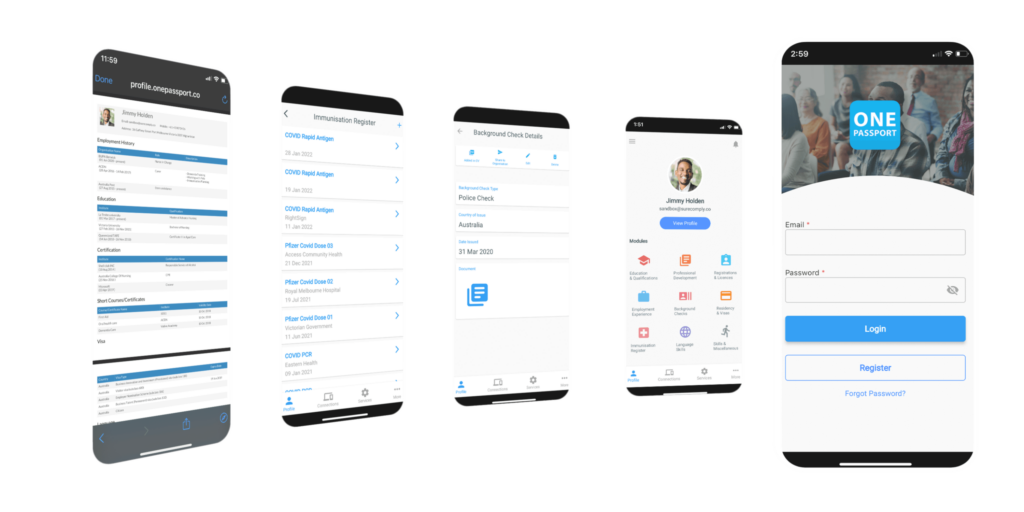 FAQ OnePassport | Profile

What is OnePassport | Profile?
OnePassport | Profile is a cloud-based system that stores and allows you to share your work history, qualifications, professional training, police checks, immunisation data and residency status. Build beautifully customised CVs at the click of a button enabling real-time sharing of information with any connected organisation.

How safe is my information?
Multiple levels of security keep your information safe. OnePassport is built on high level encryption, quarantined databases and is cloud-based.

If I connect to an organisation can they see everything in my profile?
No. Your information belongs to you.  You decide what information you share with any organisation you are connected to.

What happens to my OnePassport | Profile if I leave the organisation?
Once you leave an organisation you simply go to the dashboard in your App or browser, click on the organisation you are leaving and simply click disconnect.

How do I upload information?
Uploading information is simple. Just click the + button, complete the data required in the fields, click the 'Upload File' button and either take a photo of your documentation or upload from your device.

Can I get a verified Police Check through OnePassport?
Yes you can. From your dashboard choose CV check and follow the prompts to order your check. There is a charge for this service and you will need your identification documents at hand. Once your check is completed it will be sent directly to your OnePassport record and you will find it in the Background Check section.