Migration agency workforce compliance management
Save time and cost – and lower risk – by automating common workforce compliance management tasks
Smarter migration risk solutions
Focus on meeting your clients' needs, not on administration
Decreasing the time taken to receive and process migration compliance information from candidates means they can migrate quicker. OnePassport easily handles the regulation complexities of operating a migration agency.
Power of third-party verified data
OnePassport is a dedicated workforce compliance system allowing you to both collect and independently verify data
Place people faster without compromising risk – reduce from 6 weeks to 1 week
Connect existing people management systems for seamless workflows and processes
Save time by digitising manual processes
Achieves 50%+ reduction in compliance management time
Automate alerts for both recruiters and workers
Alerts and notifications ensure compliance items are never missed
Onboarding a person, a team or the entire organisation has never been faster
Time is limited and so are admin resources – so speed to effectiveness is vital whether onboarding people into new software or setting up new hires.
Set workflows that collect all necessary workforce compliance information from new recruits before they can go on the roster. Save time and costs by having the recruit upload the data into their OnePassport app and digitally share it with your organisation.
Remove confusion and support ideal candidates who may lack computer skills by requiring CVs to be in the OnePassport CV Builder format. It's free to individuals and easy to complete, while also saving you time in reviewing due to the consistent CV format.
By allowing a system for sharing verified information, you lower duplication – both time and costs. OnePassport facilitates the secure and (Privacy Act) breach-free method of sharing information including police checks, vaccinations, qualifications and visa information.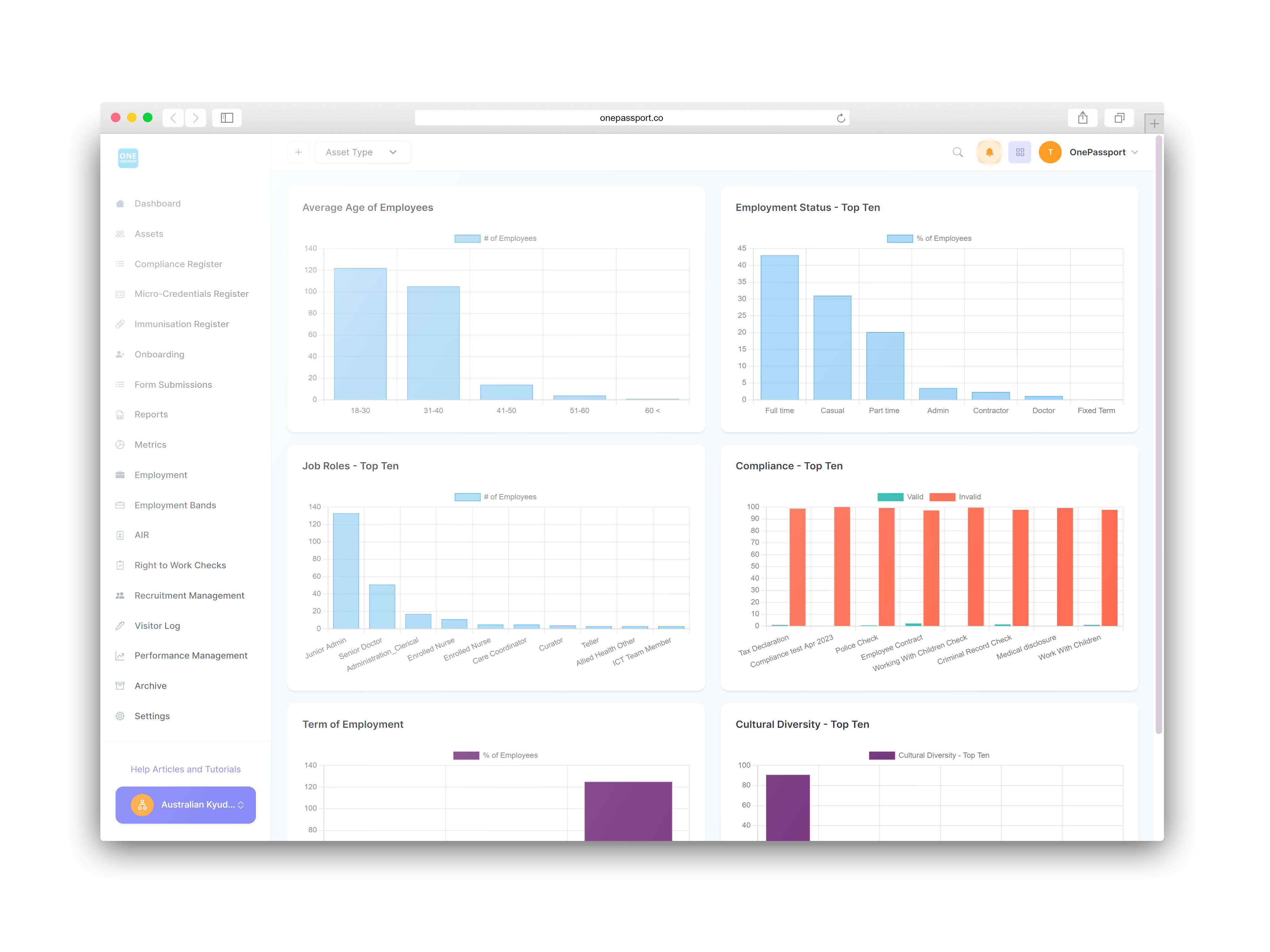 Workforce compliance is all about access to real-time data
At-a-glance compliance dashboards and metrics to always know where your compliance risks lie.
OnePassport | Comply is powered by dashboards; with multiple metrics to show the big picture, and reports to deep dive into all areas. Alerts for expiring data mean that neither the worker nor their manager misses important deadlines.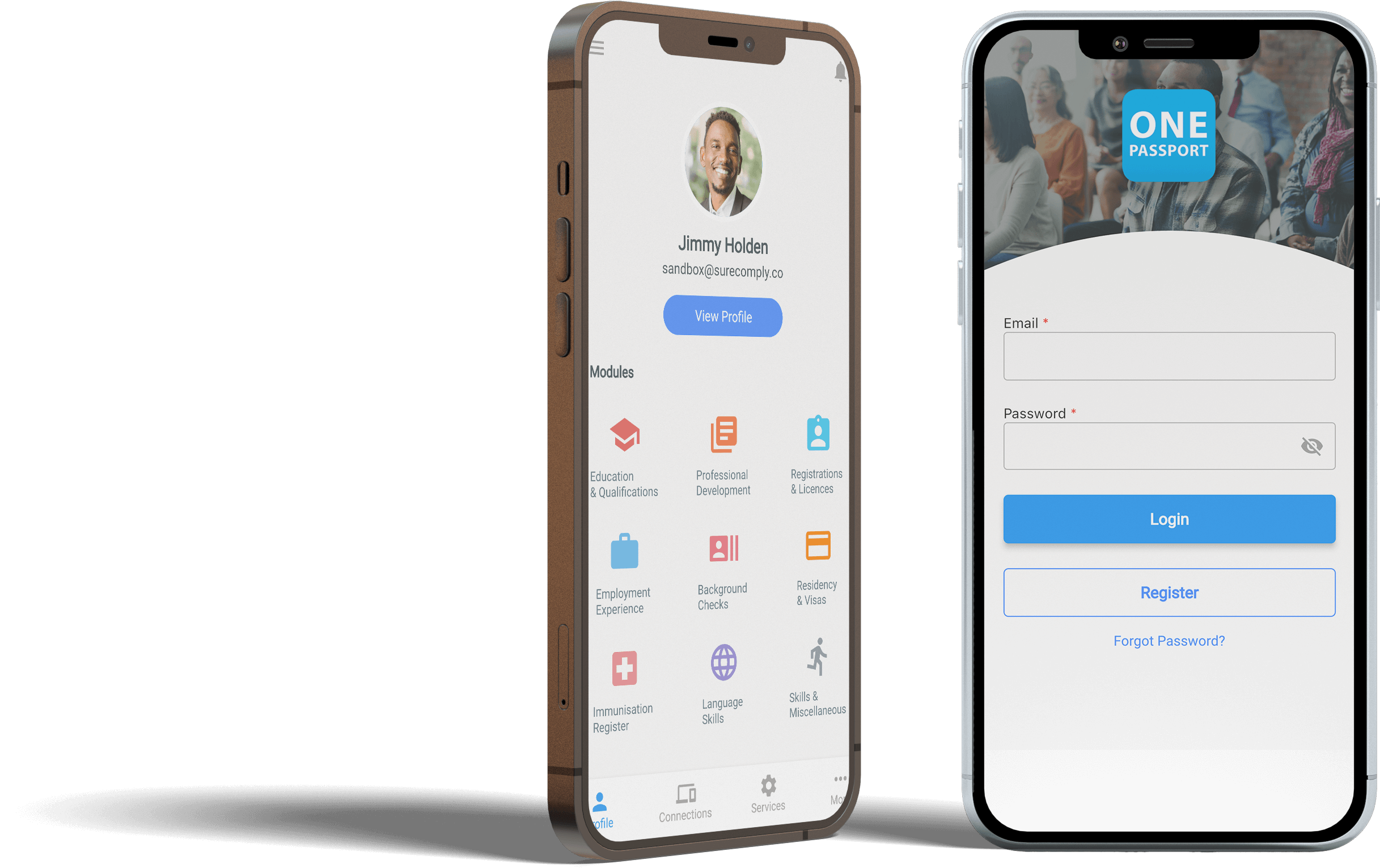 The benefits of digitising and automating workforce compliance management
Having OnePassport manage your workforce compliance lowers your risk. Immediately. The system strengthens governance around compliance items, helping you to avoid breaches – such as the Privacy Act. It provides you with a previously unseen level of visibility to your workers – both internally and externally. And all in real time. No delays by a new item being stuck in someone's inbox.
OnePassport provides a LOT of data – a 50% reduction in workforce compliance administration. Not only in day-to-day management but also recruitment. The time to effectiveness of new hires is reduced dramatically. The reporting function is not only fast – one click reporting – but all managers can run reports on their people. No more waiting for the HR Dept to tell you whose police checks are about to expire.
OnePassport reduces duplication which saves costs for both the provider and the worker in areas such as background checks. Because workers are sharing data from the OnePassport app directly with their employers – rather than handing in paper or sending emails – it shifts the data entry cost which also provides genuine FTE savings.